HEAD OF THE DEPARTMENT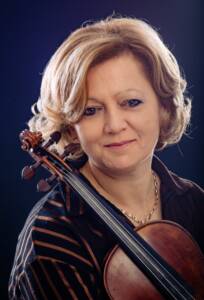 Lidija Bobić
Lidija Bobić was born in Varaždin, where she graduated from the Varaždin School of Music. She continued her education at the Peter Ilyich Tchaikovsky State Conservatory in Kiev, Ukraine in the class of prof. Taras Pecheny, who introduced her in detail to the Russian violin school and the work of professors Yuri Jankeljejevic and Abram Jampolski, the most eminent violin pedagogues. She graduated in 1994 in the class of Professor Igor Andrijevski. Throughout her studies she attended pre-practice classes (work with children) with the famous Ukrainian pedagogue Konstantin I. Takhtadzhiev, author of violin school for beginners, collection of etudes and songs for children, and one of the leading professors at the school for gifted children N. Lisjenko.
It was working with preschool children that inspired her to focus her future profession on pedagogical work. In 1995, she received her first job as a violin teacher at the Miroslav Magdalenić Music School in Čakovec.
She started working at the Varaždin School of Music in 2007 and, in addition to teaching violin at the Elementary Music School, she started with the preschool violin program for children in the "Small Violin School". Working with children of that age has shown great results in many national and international competitions. With her students, she has won numerous awards in Croatia, Serbia, Italy and made notable performances with Croatian chamber ensembles – Varaždin Chamber Orchestra, Croatian Chamber Orchestra, Zagreb Soloists. Her students have performed several times at the renowned Varaždin Baroque Evening Festival. She participated in the work of the jury at the Regional Competition HDGPP, and at International Competitions in Serbia and Slovenia.
Together with prof. Goran Končar she participated in the organization of the Franjo Krežma competition in Vinkovci, and at the invitation of the organizers of Musica Zagreb, she designed the 1st International Violin Online Competition Ludmila Weiser as a homage to our first Croatian professional violinist.