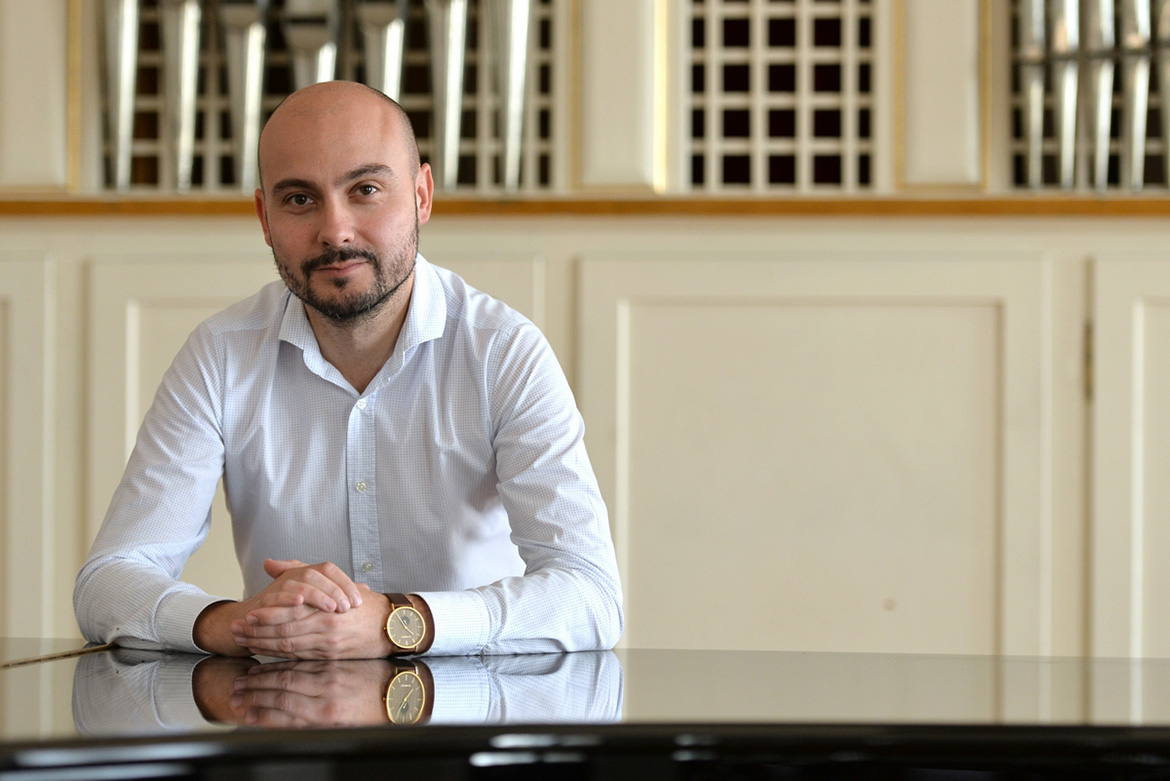 Davor Matačić
Davor Matačić was born in Varaždin. He enrolled in the Varaždin School of Music at an early age, and began to study piano under Tatjana Majnarić. He graduated from both Varaždin First Grammar School and the Varaždin School of Music (where he majored in piano) under Olimpija Vojvoda.
At the 29th Croatian Competition for Music and Dance Students he won the 1st prize, and as a successful student he represented the Varaždin School of Music at the national television (HRT). He enrolled in the Music Academy in Zagreb under Professor Đorđe Stanetti, where he graduated with honours in 2002.
Among many concerts he took part in, some of the most prestigious venues he performed at are: Dubrovnik Summer Festival, the Festival of St. Mark in Zagreb, the Croatian Music Institute in Zagreb. He also performed with the Zagreb soloists at the 34th Varaždin Baroque Evenings.
He has taken numerous master courses with eminent music educators, such as R. Kehrer, S. Benda, L. Baranyay, K. Richter and K. H. Kämmerling. He has also recorded for the Croatian Radio and Television educational programme.
He has worked at the Varaždin School of Music since 2002 and has achieved remarkable results as a music teacher and piano accompanist. He has also served as a jury member at piano competitions in Croatia and Slovenia, as well as at the prestigious International Hans Gabor Belvedere Singing Competition.
He established the Varaždin Woodwind & Brass International Competition and the Tribute to Jurica Murai and Murai Grand Prix International Piano Competition, which, shortly after its founding, joined the prestigious Alink Argerich Foundation. He also serves as the chairman of the Organizing Committee of the two competitions.
He completed his postgraduate studies in International Relations at the Faculty of Political Science in Zagreb, with a thesis on the role of UNESCO in international cooperation.
He is a member of the Croatian Society for the United Nations. He was a student at the UN Academy organized by the Ministry of Foreign and European Affairs and the US Embassy in the Republic of Croatia.
He was appointed to the Jury of the 48th Varaždin Baroque Evenings, and is part of the jury panel of this oldest European festival dedicated to baroque music.
In accordance with a decision of the School Committee, on 18 March 2013 he was appointed acting head teacher, and since 1 January 2014 he has been the head teacher of the Varaždin School of Music.
In September 2018, he received the Varaždin County Award on behalf of the Varaždin School of Music for outstanding achievements in the previous year.