HEAD OF THE DEPARTMENT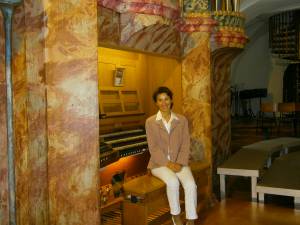 Natalija Imbrišak
Natalija Imbrišak was born in Koprivnica in 1967. Her music education started in her home town, and then was pursued at Vatroslav Lisinski Secondary Music School in Zagreb. At the Academy of Music, Zagreb, she graduated music theory subjects under Professor A. Klobučar in 1990, and organ under Ž. Dropulić and M. Penzar in 1994.
She attended organ masterclasses given by Professor Jean Ferrard (Belgium) and Jean Boyer (France). After her organ specialisation course attended at ˝Conservatoire Royal de Musique˝ in Brussels under Professor Jean Ferrard, she received her master's degree in organ from the Academy of Music, Zagreb. During her studies in Brussels she also specialised in counterpoint, practical harmony and music analysis.
She taught theoretical music subjects at Vatroslav Lisinski Music School in Zagreb and at Music School in Koprivnica. Since 1997 she has been teaching organ at the Varaždin School of Music.
Her former students study organ at the Academy of Music in Zagreb, Alba Vidaković Institute of Church Music in Zagreb, at Giuseppe Tartini Conservatory in Trieste, Italy and Hochschule für Musik und darstellende Kunst in Graz and Hochschule für Musik und darstellende Kunst in Vienna.
In 2011 she was appointed teacher trainer, and in 2016 teacher advisor.
In addition to her remarkable career in education, she has taken part in numerous festivals and events which promote organ playing, such as Zagreb Summer Festival, Varaždin Baroque Music Evenings, Sudamja-Split, Organum Histriae in Umag, Max Reger Cycle in Varaždin, Organ as European Cultural Heritage (international convention held in Varaždin in 2000), Organ Summer Festival in Prague, Music Festival in Balingen. At the 2000 International Convention entitled Organ as European Cultural Heritage held in Varaždin she premiered Phantasy for Organ 75 "Lord, all the peoples of the Earth will be worshiping you" by Varaždin-born composer Davor Bobić. Together with Professor and Academician Anđelko Klobučar and German organist Christoph Bossert she took part in the concerts held on the occasion of the commissioning of the organ for the Varaždin Cathedral in 1998.
She is the organist and leader of the mixed choir of St Nicholas' Church in Koprivnica. She teaches organ at the School for Church Musicians of the Varaždin Diocese. She runs a seminar on the organ music of the 19th and 20th century at the Organ Summer School in Šibenik, and on the Croatian organ music.
In 2011 she released a CD called "Baroque Postcard" featuring a concert held at the 41th Varaždin Baroque Evenings, and in 2013 a CD entitled "César Franck and Charles-Marie Widor" featuring pieces for organ of French Romanticism. In 2000 a CD "I praise You, Lord" was released, with her leading the mixed choir of St Nicholas' Church in Koprivnica. In 1992 an audio recording of "Missa Croatica" composed by Fortunat Pintarić and performed by Podravka mixed choir was released for the Croatian Radio.
She plays the organ as a soloist and as an artistic collaborator with soloists and ensembles in Croatia and abroad (Belgium, Austria, Italy, Slovenia, Germany, Hungary, the Czech Republic). She is a member of the Croatian Music Artists' Society and the Croatian Music Theoreticians' Society.