Why music education matters
Exposure to music and active music playing have a beneficial effect on the emotional and intellectual development of a child. According to neuromusicology research results (scientific discipline that studies the influence of music on the brain), music activates every part of the brain, and an active music playing substantially strengthens the corpus callosum, nerve fibres that mediate information between the left and right side of the brain creating new networks and configurations which are otherwise not present in the brain. They stimulate memory, improve language skills, slightly increase IQ, stimulate cognitive abilities and help develop spatial images necessary in architecture, computing and understanding mathematics. Influenced by music the brain releases a large amount of dopamine responsible for happiness, and oxytocin, the hormone that increases the emotional connection we have with others. Playing music also develops and significantly improves fine motor skills. Having to deal with music on a daily basis, even if it is a minor task, develops self-discipline, responsibility and creativity, whereas ensemble music playing develops cooperation skills, tolerance and empathy. Therefore, even though today music education is marginalised within the mainstream education system, which considers music something nice, but not essential for human existence, active music playing enriches and enhances all levels of human existence – physical, emotional, social and cognitive – helping children grow up and become mature people.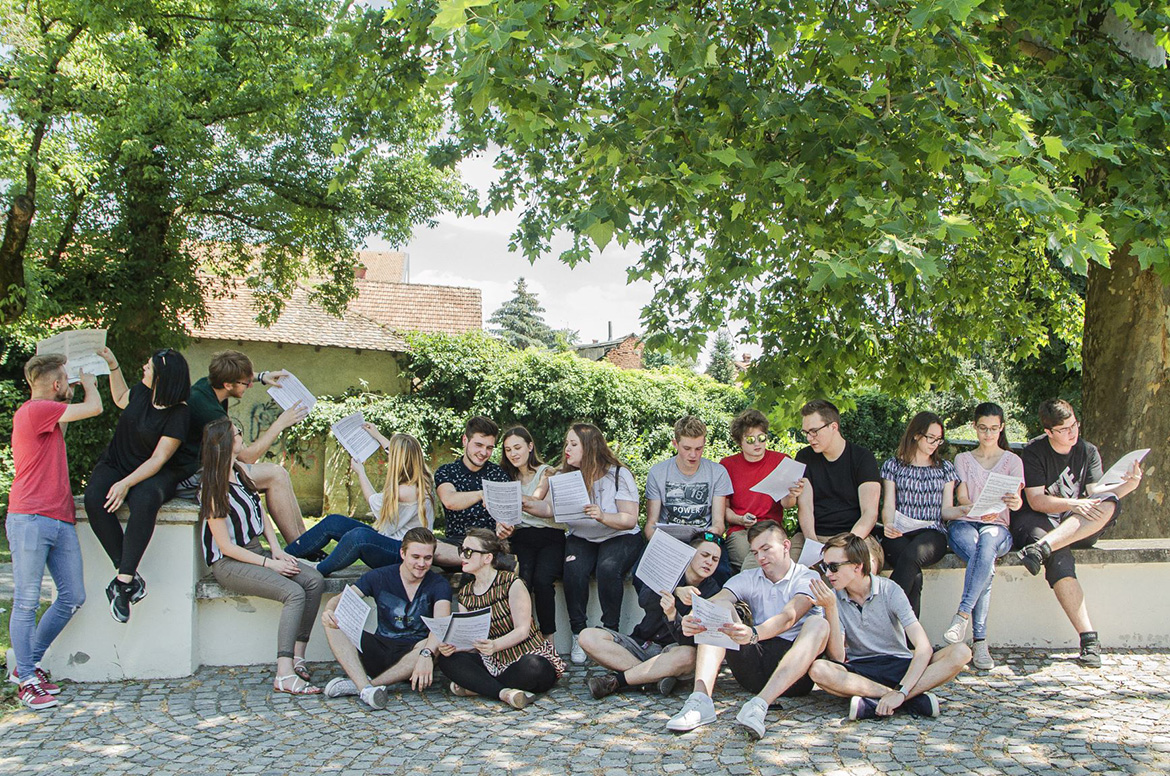 Why the Varaždin School of Music
Drawing on best educational practices and applying the highest educational standards, the Varaždin School of Music provides a comprehensive music education, from pre-school to secondary education. As many as 18 programmes are taught by slightly over a hundred university-educated musicians – teachers of music theory, voice and all contemporary musical instruments. In addition to its regular programme, students can choose elective subjects, such as harpsichord, composition, jazz and using computers in note transcription. The idea behind it is to enable an individual approach in teaching-learning process, in addition to one-on-one approach, which is a norm in teaching to play a musical instrument, as well as inclusion, which is fostered by ensemble playing – chamber music, orchestral or choir music.
Students are given plenty of opportunity to perform in front of an audience, and the best ones are given the opportunity to play with the Varaždin Chamber Orchestra at Varaždin Baroque Evenings and in the occasion of School anniversaries. Students also often perform as members of chamber orchestras, choirs (there are 6 choirs at the School) and string, wind, accordion or tamburitza orchestras. Recently the number of students involved in successful international projects, such as the cooperation of the School with Ravensburg Music School, is increasing.
In order to improve and grow the competencies of its teachers and students, seminars run by eminent music educators and musicians are regularly organised. On the other hand, thanks to the effort and dedication of the teachers of the School, our students take part in a number of national and international competitions and return with the top awards. Thanks to its long experience and hard work of its teachers, the School has conceived and launched two major projects, i.e. two big international competitions: Tribute to Jurica Murai and Murai Grand Prix International Piano Competition, and International Woodwind & Brass Competition. In a short period of time both competitions have gained excellent reputation and have become popular with candidates from all over the world thanks to its impeccable organisation, the number of participants and the choice of jury members. The International Piano Competition has also become a member of the Alink-Argerich Foundation. The two competitions also give our students opportunity to see where they stand when it comes to their music playing.
Moreover, the School is also engaged in community music projects. In addition to its own recitals, concerts and projects, concerts of eminent musicians are organised for a larger audience. Our students are also invited to play at local events and celebrations organised by town or county authorities. Some of the projects, recitals and concerts, which have also hosted our former students who are now successful musicians, have been recorded and published in the cooperation with Aulos Publishing from Varaždin.
Established 190 years ago as a small town school, today the School catchment area is in four counties. It has over 700 students and more than 100 highly qualified teachers. The success of its current and former students is the best evidence of its quality: numerous prizes and awards at national and international competitions, a high university enrolment in Croatia and abroad, and a lot of exceptionally successful careers. It makes it not only one of the oldest and biggest music education institutions in Croatia, but also one of the most prestigious and successful.
Nataša Maričić, prof.