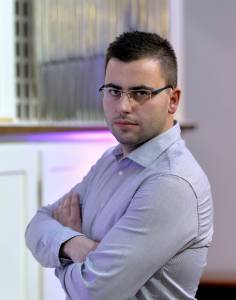 Nikola Novak

Nikola Novak was born in Čakovec. He graduated from Miroslav Magdalenić Art School in 2001 under Vjeran Vidović, and in the same year enrolled in the Varaždin School of Music. During his secondary education under Stjepan Rukljić, he won the first prize at the National Competition of Music and Dance Students. Alongside his secondary school music education, he also graduated from Varaždin First Grammar School and in 2005 enrolled in the Music Academy of the University of Zagreb under Professor Šime Vulelija and Assistant Professor Danijel Rajković. He graduated in 2010 and received the title of Master of Music. He has played for the Croatian National Theatre in Zagreb, Osijek and Varaždin, the Kerempuh Satirical Theatre and the NBS Brass Quintet, with which he performed at the Croatian Music Institute. He has taken courses run by a number of eminent music educators.
After earning the title of Bachelor of Music in 2009, he worked at Bruno Bjelinski Daruvar Music School and Čakovec Secondary School. Since 2010 he has worked at the Varaždin School of Music as a teacher of tube and chamber music. Since 2014 he has also served as a timetable and planning assistant. As a part-time student at University North in 2015, he completed his studies in Business Economics (International Trade) and earned a Master of Economics degree. He has also completed an additional course thus earning a title of Manager for the design and implementation of EU projects.
He is one of the founders and organizers of the Varaždin Woodwind & Brass International Competition and Tribute to Jurica Murai International Piano Competition.
He was the organizer of the first Croatian Trombontubiada, which was held in 2012 in Varaždin. The project is held every year in a different city bringing together Croatian teachers and students of trombone and tube.
He has been a member of the jury at the regional and national competition organized by the Croatian Society of Music and Dance Educators, as well as a member of the jury of Mladi Padovec National Competitions.
Many of his students have won awards at competitions in Croatia and abroad. Two of his students study at the Music Academy of the University of Zagreb and two at the Kunstuniversität in Graz. He was appointed mentor teacher by the Education and Teacher Training Agency in 2016.
He is an active musician. He plays with the Nedelišće Community Wind Orchestra and the Forza Brass Quartet, and is the conductor of the Štrigova Municipality Wind Orchestra. Every year he also takes part in the activities of the Josip Vrhovski Symphony Orchestra.